Milk Chocolate Easter Bunnies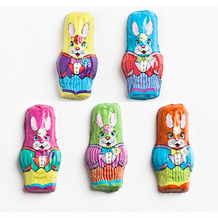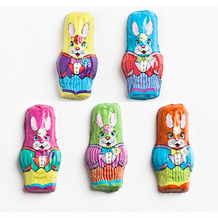 Ensure your kids an even sweeter Easter with these solid, bite-sized tuxedo donning bunnies, flaunting a fine Italian foil wrapper and intricate details. Display in a candy jar, distribute in clear cellophane bags, utilize as table decoration or present in a simple Lazar's Chocolate box. Either way, they're a delectable gift for teachers, colleagues and children alike.
Piece size
2" x 1" x 7/16"
Kosher
This is a "Kosher-Dairy" Certified product. It has been repackaged in our store. Each piece is NOT labeled. Our packaging is NOT labeled. Please call us for more information regarding the manufacturer.
Ingredients
Milk chocolate (sugar, milk, cocoa butter, chocolate, soy lecithin; an emulsifier, vanillin; an artificial flavor)