Testimonials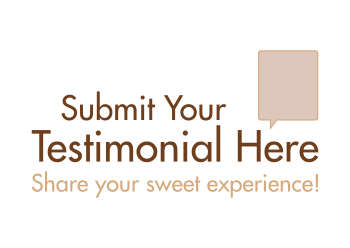 "I was in desperate need to get something special for my husband's birthday and I needed it within three days. They were able to create the most beautiful party favor with a sticker of my husband affixed to the bag with the best non pareils I have ever had! Thank you!!!"
Leigh S
New York, Ny
Jul 11, 2023
"In search of a childhood memory of a two-layer chocolate truffle, I found Lazar's Chocolate online. I grew up in Great Neck, but had never experienced Lazar's. The consistency and richness of the chocolate is superior to anything I've tasted. Longtime friends from Great Neck have been telling me for years Lazar's is the best. I thought they were being loyal to the locals, but they were right!"
David Sperling
Weaverville, North Carolina
Sep 1, 2022
"Lazar's is the definition of Small Business. The moment you walk in you feel like you have been a customer for years. I requested a specific item with dark chocolate and it turned out great. Marc made sure that the chocolate was made correctly. Lazar's policy is everything needs to be perfect. The way I see it is Marc wants the customer to be happy. I thank and appreciate the chocolates and the best people skills of the employees at Lazar's. Keep up the great work Marc and All at Lazar's Greenvale (they have another location in Great Neck),"
Constance Wallace
Greenvale, Ny
May 13, 2022
"I only recently heard about Lazar's chocolate and decided to give them a try. I placed an online order that came promptly. But the best thing was the chocolate. It is simply excellent."
Violet Evans
Great Neck
Apr 30, 2021
"Known this store for too many years to count. I remember getting my rope licorice here and my mom getting her favorite chocolates. The personal touches they create are great too!"
Jaclyn
Great Neck,ny
Apr 23, 2021
"I received gift box for Christmas. It came all jumbled up, not at all good presentation. I called to complain and they offered to send a replacement box. They even asked what I liked and dark or milk chocolate. The replacement arrived today. It is perfect and delicious!!! Thank you fo your good service Sally S. Hershberg"
Sally Hershberg
Rochester, Ny
Jan 7, 2021
"Pretty much the best chocolate in the world. The licorice is great too "
Michael Anthony
Great Neck
Sep 15, 2020
"I ordered several pounds of chocolate covered pretzels for a pretzel bar I did at my wedding. We ordered lots of different types of pretzels - Cookies 'N Cream Chocolate Pretzels, Reese's Pieces Chocolate Pretzels, Chocolate Drizzled Pretzels, Non-Pareil Pretzels and Chocolate Bark with Pretzels Inside. I thought I bought too much and it turned out I didn't buy enough! The chocolate was a huge hit and nothing was left at the end of the night. The chocolate is double hand-dipped and you can taste the workmanship. Also, working with Marc Lazar was a delight. He always got back to me rather quickly and was very helpful. I would recommend Lazar's Chocolate for your big event!"
Sara M
Great Neck
Jun 24, 2020
"This tiny little store has been a staple in Great Neck for years. Their chocolate is some of the best I have ever had. No matter what holiday, religious or secular, you can always count of Lazar's for holiday themed treats. They have 2 other stores that I know of, one in Bayside and the other in Wheatley Plaza. I think the Great Neck store was the first."
Kathie R
Great Neck
Jun 15, 2020
"Everything! It's all delicious!"
Jim Ryan
Great Neck
May 30, 2020
"Great selection, helpful staff. You certainly get what you pay for!"
Zach M
Great Neck
May 15, 2020
"We love the chocolate there."
Jack Beller
Great Neck
May 15, 2020
"A small, unassuming chocolatier in the middle of Great Neck, with a nice selection of high-quality homemade chocolates. If you want to sample little sweet decadence, try this place."
Amnon Gonenne
Great Neck
Apr 30, 2020
"I discovered Lazar's almost 25 years ago. They are the best chocolatiers in the Greater Metro area. I love fancy Hand-Dipped chocolates and this is the only place I go when my sweet tooth strikes. A one-pound box hand-packed box is $35.98 per and worth every penny!  I'm partial to the Chocolate Walnut Patties; Chocolate Cashew Patties and Chocolate Covered Graham Crackers myself!  They even make sugar free chocolates (Hard-pass ....) but if you're on a restricted diet this is the place to go!  The staff is wonderful and they know their product!"
Sheila J
College Point
Apr 22, 2020
"Ordered the chocolate-covered gummy bears but received only plain gummy bears. When I called to try to fix the order they not only agreed to send me the correct order right away at no additional charge but also let me keep the plain gummy bears. Great customer service to go with great candy"
Robert R
Fullerton
Apr 15, 2020
"Best chocolate shop ever. My favorites are the dark chocolate marzipan, dark chocolate orange peel, dark chocolate dried apricots and I love custom ordering the dark chocolate nonpareil lollipops. The only negative about this place is the price. It's very expensive. But trust me it is so worth it!!!"
Lauren S
Bellport
Apr 1, 2020
"Lazar's Chocolate is so nostalgic for me because my grandmother would always ship my Dallas, TX-based family delicious and festive wrapped candies for every holiday, like Halloween, Christmas, Thanksgiving, and Valentine's Day. She also shipped several boxes to my father's family in France, so we'd get to experience the delicious chocolate whether we were in the States or across the world. It's a must on our list of places to go when we find ourselves in Great Neck, and I absolutely love this place!"
Christine S
Dallas, Us
Mar 15, 2020
"This chocolate is as good as it gets. When my adult daughters were little and we went strolling down Middle Neck Road, they lobbied hard for a Lazar's treat. And to quote my 88-year-old mom, "Lazar's nonpareils are the best". I guess they appeal to all ages. Nice small-town vibe in the shop, especially with the sons joining the business. We've sent holiday gift baskets to clients over the years, and the presentation always made a huge impact as well. Highly recommended."
Irwin L
Great Neck
Feb 25, 2020
"I visited Lazar's Chocolate this weekend and it is still delicious as ever with all your favorite dipped chocolates and other candy shop offerings!  Quick and friendly service, unlike a recent experience I had! The store really is a feast for the eyes (and your tummy, of course) because there's so much to choose from! And even though it's summer, they have their regular hours and the chocolate is pristine! Check out my photos of my forever favorite, molasses sponges.  They're hard to find and Lazar's happens to dip with a pretty thick covering of chocolate; note the sides of the candy! They even did a drizzle on top which is different than all other sponges I've had...and I've had a lot over the years.  Typically a chocolate sponge is not as thickly dipped and smooth.  With Lazar's sponge, you could actually spend a bit of time biting/sucking off the chocolate, but who can do that?  You've gotta put the whole thing in your mouth at once, it's too good to wait! And if you're a chocolate chip cookie lover as I am, and a Tate's one at that, they even do chocolate dipped Tate's...shouldn't be legal!!!"
Marlo G
Hoboken, United States
Feb 16, 2020
"I just moved back from California and one of the first places I wanted to go was Lazars. If I recall correctly you're in charge of the Wheatley store. My parents and I just went to the store. Your staff has always been wonderful there and my mom kept commenting on them today. She can't wait to go back. The store was packed and the girls did a great job keeping the flow of people going while memorizing orders. We got tons of stuff to bring to a dinner party tonight and know the hosts will be thrilled with the chocolates. Kind regards, Emily"
Emily Roman
Greenvale
Jan 29, 2020
"I needed to get my mom a gift for her birthday and her sweet tooth is legendary. I've passed by this store a few times and I decided to stop by, they have a great selection which made it hard for me to choose. You can never go wrong with a sampler though."
Randy S
Great Neck
Jan 29, 2020
"My family received a hand packed boxed (house selection) of chocolate for the Christmas holidays this year. You see, Im a chocoholic! I love chocolate whether it be white, milk or dark, filled with caramel, mint, raspberry tart. You name it!"
Shannon Z
Fort Collins
Jan 15, 2020
"Expensive, but delicious. Fun spot to treat yourself or your loved ones."
Michael Gainey
Great Neck
Dec 30, 2019
"Great Chocolate and candy store. Will meet your sweet tooth desires. Parking lot available."
S Scuba
Great Neck
Dec 24, 2019
"The selection is really good. They will also make specialty wrappers which makes great gifts on a chocolate bar."
David Bobrow
Great Neck
Dec 14, 2019
"A small, unassuming chocolate in the middle of Great Neck, with a nice selection of high quality home made chocolates. If you want to sample little sweet decadence, try this place."
Amnon Gonenne
Great Neck
Dec 6, 2019
"They really went out of their way to accommodate a large order and they did so with courtesy and professionalism. I will continue to use them for my personal, gifting, and party favor needs for sure! "
Stephanie Clark
New York
Oct 23, 2019
"Marc is so professional. The favors for my friend's daughter's bridal shower came out incredible. Everyone loved them and loved the chocolate. Highly recommend Lazars. "
Lisa Infante
New York City
Jun 7, 2019
"Lazar's Chocolate has been providing high quality chocolate for my events for several years. Marc and his staff are professional, courteous, and so accommodating. I have called Marc last minute to prepare baskets and he is always right on it and i never have to worry that they will be delivered on time. Recently, they prepared 100 one pound chocolate bars for my husband's surprise party with a photo and wrapped beautifully! Besides the upmost precision in dealing with Lazar's, the Chocolate is absolutely delicious!"
Jill Spielman
Woodbury,new York
Mar 26, 2019
"I live in the DC area and became familiar with your chocolate in an unusual way. A wonderful elderly couple lives a few doors down from me. I watch out for them, doing small tasks and helping them in various ways. They have a son who lives in New York. As a gesture of thanks, their son has twice brought me Lazar's dark chocolate with almonds. WOW! This is the best chocolate on earth!"
Michael Cregge
Alexandria, Va
Oct 24, 2016
"We have been buying Lazar's chocolate for years and it is by far the best chocolate. No one makes milk chocolate pecan patties like Lazar's- to die for! The dark chocolate marshmallows are incredible! We could go on and on- the butter crunch, chocolate grahams, etc. The ingredients are so fresh and are of the highest quality. The Lazar family is so nice to deal with and they have never disappointed us."
Barbara Robin
New York City
Feb 13, 2015
"Lazar's Chocolate not only provides top notch quality chocolates that are out of this world delicious but the service they provide is even more outstanding. Recently I placed an order for a very important event but wasn't able to make it to the shop before it closed. You can imagine the wave of panic I felt knowing that I needed this order to be ready for 8am the next morning. Lazar's saved my life when they were nice enough to open the store after closing so I was able to get my order. I cannot thank the owners of Lazar's Chocolate enough for their help! You just gained a customer for life! :)"
Olivia
Great Neck
Nov 18, 2014
"My first experience with Lazar's was today (Valentine's day 2014) one of the busiest days of the year for a chocolate shop and with my last minute order the staff at Lazar was able to deliver today within minutes. That's amazing. Thank you for making this happen with such short notice on the biggest day of the year. You guys are great!!!! Not to mention the chocolate was scrumptious. Thanks Jean"
Jean
Queens, Ny
Feb 14, 2014
"I order Lazar's Chocolate for my mother (she is in love with their maple cremes). My last delivery date was during a particularly hot week here in Nashville and I received a personal phone call from them asking if they could delay shipment a few days because they didn't want the chocolates to melt. I was so impressed that they personally called and were concerned that we would have the best product available. I work in customer service and I use this as my first and most impressive customer service experience!"
Randy Clinker
Nashville Tn
Sep 17, 2011
"Marc, You caused a sensation with those gorgeous bars. Everyone just loved the dark and milk bars with Tom's and Liz's baby photos on them. I must take credit for the concept but you executed it brilliantly. The chocolate was also amazing, just really delicious. Thank you so much for the beautiful packaging and safe delivery and for being so nice to work with. I wish I could throw a baby shower every month—it was so much fun.... Thanks very much for making the shower memorable and fun. Best, ~B."
Beverly Savage
Jun 15, 2011
"I called your store yesterday because I was a big fan of Evelyn's. I already received the chocolates I ordered by phone yesterday, and they are adorable!! Thanks so much for the quick and very pleasant service."
Tamara Lubansky
New York, Ny
Feb 11, 2011
"Well the chocolate bars were hands down the biggest hit of the party. Everyone was taking photos with them, and thought they were the most unbelievable idea ever. One of the other project managers was like, this is definitely something we will doing again the future. Just wanted to tell you how great they are! Thanks so much!"
Carly
New York, Ny
Feb 10, 2011
"I found Lazar's Chocolate accidentally while surfing the web for chocolates years ago. My husband and I were skeptical when we received them but as soon as we tasted them, we quickly realized how delicious these chocolates were! Sure it would be easy to go to a local chocolate company and get your goodies, but when you need to have the BEST, you need Lazar's! I will order from them for all my chocolate needs!"
Kristen
Connellsville, Pa
Feb 7, 2011
"Friends of mine from Great Neck brought your chocolates to me when they visited me in CT. I couldn't believe how delicious they were as a savored each piece. I then purchased them for my father in PA who also loves them, so I have sent them repeatedly to him. I select a new assortment each time and keep asking him to tell me his favorites. He just tells me "one is better than the next. I love them all." I guess I'll just believe him and just keep sending him my hand-picked and changing assortment each time. I also sent them to myself and my children for Christmas. We are ALL loving your chocolates. I am sure I will continue to broaden my recipient list. Thanks so much for making the BEST chocolates."
Mary Ann
Connecticut
Feb 2, 2011
"I lived in Great Neck years ago and ate your chocolate every chance I got. My stepfather used to buy my favorite--the dark chocolate almond bark--and hide it in the back of the refrigerator--that way just me and him knew about it--so no one else could eat our favorite treat!"
Bonnie Sadicario
Middletown, Ny
Feb 1, 2011
"I've received Lazar's milk chocolate covered graham crackers as a gift a few times now. They are always delivered super quick, very well packaged and always nicely gift wrapped. This last time they even had a cooling block on them (I'm assuming because it was hot that week and so they wouldn't arrive melted)~was pleasantly surprised to find that extra pre-caution was taken. They are sooooo delicious and simply the best I've ever had~well worth the money!"
Kristin
Apr 16, 2010
"I really enjoy your Square 2 Layered Chocolate Truffles. I can't find this anywhere else!!!"
Patricia Fischetti
Apr 13, 2010
"I was very pleased with the entire experience. I brought in a picture with several people in it and left it to Lazar's to cut out the 2 people I wanted on the candy bar wrapper. The sample picture that was emailed to me was a pleasant surprise - I never would have thought to do it the way Lazar's did the photo. I was able to print on the wrapper alot of different wording that was appropriate for the birthday gift. The finished product, with its wrapping and presentation, was beautiful. And as an extra added bonus, the chocolate inside was yummy."
Lorraine Mazzocchi
Bay Terrace
Mar 29, 2010
"I have ordered several gifts for friends from Lazars. When my friends see the box from Lazars, they get excited because they know delightful enjoyment is soon to be experienced. The chocolate is delightfully wonderful, the best in the US. The shipping is on time. The packaging is solid. The wrapping is always beautiful. Keep up the good work. It is always a pleasure ordering from the website...and eating the chocolates. OUTSTANDING!!!!!!!! Also...if you have a question, call the number and you ACTUALLY get a live-person."
Belinda
Basking Ridge
Mar 17, 2010
"I JUST RECIEVED MY ORDER FROM YOU, AND I OPENED IT AND TASTED THE CREAMY MAPLE CANDY, AND BOY OH BOY I THINK BY FAR IT IS THE BEST DAMN CANDY I HAVE EVER TASTED!!!!! I WAS SURPRISED AND PLEASED WITH THE SPEEDY DELIVERY AND THE PACKAGING OF MY PROUDUCT. I AM PLEASED AND GREATFUL TO YOUR GRANDFATHER AND AUNT FOR SHARING THERE GIFT OF CHOCLATE WITH US AND PROUD TO SHARE LONG ISLAND WITH YOU AND YOUR FAMILY. FOREVER HOOKED ELAINE"
Elaine
Seaford
Feb 11, 2010
"Went into Bay Terrace yesterday and purchased one pound of the Dark Chocolate Halva Steaks..... Absolutely the best ever. By the time I got home I ate two of them in the car and now have them under lock and key so no one touches them. Will certainly return to purchase again. Thanks so much for a wonderful product."
Rosemary Kazanjian
Bay Terrace
Jan 17, 2010
"The chocolate hockey pucks got to MN on time. They were a big hit! Thank you for the special bar for my client Michele as well as the Precision chocolate bar. What a surprise! Anyway, my contact with the Minnesota Wild was so impressed with the pucks and packaging he asked for your contact info which I am happily going to pass along. I am so glad I found you guys. I hope to work with you again in the near future. Thanks again! Allison"
A. Campbell
Va
Jan 8, 2010
"One of our teachers (at the school where I work) bought a platter for us for the holiday and I just had to write and tell you that these chocolates were the most delicious I have ever had, and I have had many famous brands including Godiva. Each one was better than the next and so rich and tasty. I just had to write and let you know. Thanks very much. I don't drive so I can't get to your stores, but I would like to keep your website on my computer and would love to order from you. Thank you again. Toby Incantalupo."
Toby Incantalupo
Woodside New York
Dec 22, 2009
"We moved out here to Broomfield Colorado just about three years ago. There are some things you know will be a loss to you when you decided to change up life after having been in the same place for 25 or so plus years. You know you will miss your family doctor, or the produce market or Milk Barn - where you buy most every thing you need in between big shopping - or even the butcher for that matter. But I was surprised to find out how much I would miss being able to simply stop in and pick up what has clearly become my favorite chocolate - which are your dark chocolate raspberry candies. So I now find myself saving up in my "treats to me" column to this once a year (or sometimes I cheat and make it twice a year treat)- event where I buy 2lbs of these incredible treats and then squirrel them away rather selfishly. I just had to tell you ... Kind regards, C. Thomas"
Christine Thomas
Broomfield, Colorado
Dec 7, 2009
"Since moving from New York, one of the things we miss most is Lazar's Chocolate!! So when we planned for my son's Bar-Mitzvah, there was only one place to turn for our party favors!!!! Marc helped us plan THE PERFECT FAVOR for our Yankees crazed son. For the kids, he put together a great combination of a baseball home plate made of chocolate with baseballs with a great sticker with Ben and his Bar-Mitzvah date on it. For the adults, he made huge wish bars with an INCREDIBLE picture of Ben and perfect colors & graphics declaring "The Bronx Bombers celebrate Ben's Bar-Mitzvah" When the boxes arrived, we could not believe it. Everything looked even better than it did in the emails, and the only problem we had, was keeping the kids away from all the boxes (and me!)!!! We even brought an advance secret bar to the Rabbi and he LOVED it. Marc and the gang outdid themselves, and I CAN'T WAIT to see how everyone will enjoy these very special favors!!! Thanks SO Much Marc!!!!!!"
Beth Tornek Schulman
Charlotte, North Carolina
Dec 2, 2009
"I order Lazar's chocolates for all major occasions and it is the best chocolate I have ever have. Not only is it delicious, but they have always delivered my order on time. The best is the personalized gift bars that they have made me for my sister's college graduation, my family reunion and my softball team winning our championship. Thanks for everything!!"
Adam
Nyc
Aug 16, 2009
"Went the day before Mother's Day and even though the store was crowded, the service was excellent. The employees noticed me right away and I keep myself busy eyeing all their chocolates before being helped.  The employees were friendly and very helpful and their chocolate was fantastic! Great gift for any chocolate lover!"
Natalie R.
Long Beach
"Went the day before Mother's Day and even though the store was crowded, the service was excellent. The employees noticed me right away and I keep myself busy eyeing all their chocolates before being helped.  The employees were friendly and very helpful and their chocolate was fantastic! Great gift for any chocolate lover!"
Natalie R.
Long Beach
"Lazar's Chocolate is awesome. Seriously awesome. They have something for everyone here, even if you don't like chocolate they have other candy. My personal favs are the peanut butter cups (I'm a sucker for anything peanut butter) and the chocolate covered Oreos. Seriously their chocolate covered Oreos are the things dreams are made of, so good."
Joe Syosset
"Went in on my lunch break and bought the chocolate covered popcorn with drizzles of white chocolate it was awesome! Talk about melting in your mouth. They have really cute gifts too! I'll be back soon!"
June F.
Merrick
"Happened to stop in on a whim ... more like forgetting Valentine's Day for hubby.  Pleasantly surprised by the array of yummy goodness they sell. It was CRAZY busy that day, despite the fact I was in and out in less than 10 minutes. I would call that a successful trip! Plus the chocolate was SOOOO good. Will be back for sure!"
Marissa K
Northport
"This is the best chocolate store in the area! They have super-rich and delicious chocolate and candy. Great for gifts or desserts for a party! Many choices of different chocolates and candies!"
Chris G
Nassau County
"The shop is exactly what you would expect from a traditional candy shop. They have everything you could think of, both chocolate and non chocolate, even the famous, or infamous, depending on your appetite, Tates cookies! My sole reason for visiting Lazars was for chocolate sponges, something I grew up with from the Jersey shore, no, not the show. I love sponges and I really haven't seen them anywhere. Needless to say, Lazars didn't disappoint, theirs are covered in a ton of chocolate! My husband was thrilled with his chocolate mints, which according to him, have not changed from what he remembered."
Marlo Gorelick
Great Neck