It's a Boy Chocolate Cigars - Box of 24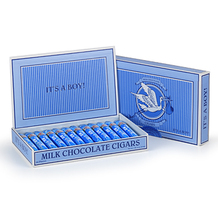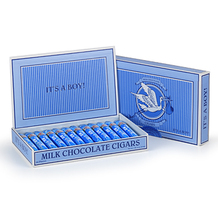 What better way to say congratulations than to present a box of light-hearted, foil-wrapped cigars. Each smoke-free candy stick is made using our signature Swiss-style milk chocolate and is individually wrapped in fine blue Italian foils that read "It's a Boy."
This congratulatory box of chocolate cigars if a great gift for baby announcements, showers and namings, and we can't think of anything sweeter - except, of course, your newborn little guy.
Piece size
5 5/16" x 3/4" x 1/4"
Kosher
This is a "Kosher-Dairy" Certified product. It has been repackaged in our store. Each piece is NOT labeled. Our packaging is NOT labeled. Please call us for more information regarding the manufacturer.
Ingredients
Milk chocolate (sugar, milk, cocoa butter, chocolate, soy lecithin; an emulsifier, vanillin; an artificial flavor)