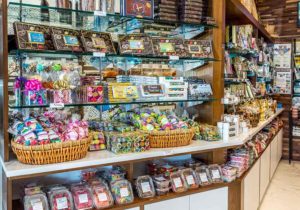 Looking for Great Neck chocolate shops, look no further than Lazar's Chocolate. We carry a wide variety of chocolates and sweets that everyone will love, from your classic solid chocolate bars to chocolate-covered everything. Stop by our shop, and we guarantee you'll find it hard to choose just one thing. 
At Lazar's, we love the holiday season as it gives us a chance to create special treats for holidays of all faiths. Special occasions are also our thing. We carry favors for parties, showers, and weddings. We also have party platters with our assorted chocolates, candies, fruit, and nuts. So, when it comes time for your holiday or celebration, visit our store to see what we have made. 
We consider ourselves one of the best Great Neck chocolate shops. One of these reasons is that we are a fourth-generation family of chocolatiers and try to consider all dietary needs when creating our treats. There are a few sugar, nut-free, and kosher options. If you're unsure about one of our products, please reach out to us, and we'll try to answer your questions. 
To see why we're one of the best Great Neck chocolate shops, visit our website or give us a call at (516)829-5785. We will answer any questions you have, including how to place an online order if you can't make it out to one of our stores.