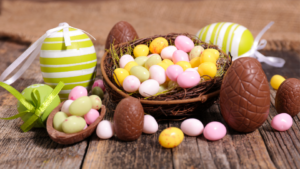 It has become a tradition for most, hiding and finding chocolate eggs every Easter Sunday morning. But why do we associate chocolate with Easter? How and where did this tradition begin?
Before we answer those questions, we must start with Easter's importance and what it signifies for Christians everywhere. Easter celebrates the rebirth of Jesus Christ. It was believed that Jesus was crucified on Good Friday and returned the following Sunday, Easter Sunday.
So, how did eggs become an Easter tradition? Christians believe that eggs are a symbol of rebirth and fertility and that the eggs represent the tomb in which they buried Jesus in.
In ancient times, during Holy Week, the week leading up to Easter, eating eggs was not allowed. So, instead of eating them, they would hide them for kids to find and decorate.
As for chocolate eggs and their origins, well, nobody knows why or how they became a tradition, but their origins date back to 1875 when Cadbury changed how they made chocolate by producing hollow chocolate eggs. And in 1905, Cadbury released milk chocolate eggs that we know and love.
How about that Easter Bunny? What role does he play in all of this? Well, baby bunnies are considered a symbol of new life, which correlates with the resurrection of Jesus.
Therefore, the tradition of the Easter Bunny was born. Now kids look forward to finding Easter eggs hidden around their house by this mythical creature.
At Lazar's, we have plenty of Easter treats to go around. From traditional chocolate bunnies and eggs to chocolate-covered marshmallow peeps. But if you're looking for something different, why not try chocolate-covered pretzels or an assorted box of chocolates.
And if you're not sure what to give away, we also carry an Easter gift set that has an assortment of chocolates and jelly beans.
Speaking of jelly beans, they are also an Easter tradition because of their egg-shaped appearance, so if chocolates aren't your thing, we have plenty of those. From jelly belly 49 flavors to licorice and everything in between.
Not into jelly beans, that's okay. We have lots of other candies to satisfy anyone's sweet tooth.
For more information on our Easter products or any other treats, visit our website or give us a call at 1(516)829-5785. We will answer any questions you may have. Contact Lazar's today!