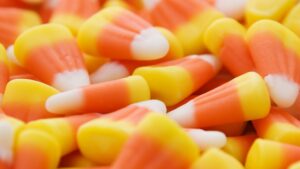 Nothing says fall festive like candy corn pumpkins. These sweet treats are like their candy corn counterparts, only shaped like the symbol of Halloween. Whether you like candy corn or don't like it, you cannot deny that these Halloween-shaped treats are a delight, and you can place them in a bowl for a Thanksgiving centerpiece.
The holidays are fast approaching, and it's never too early to think about what you're going to serve during your celebrations or what you will give away as gifts. At Lazar's, we have plenty of gift baskets, boxes, platters and packages for you to choose from to kick off your holiday tradition.
If candy corn pumpkins aren't your thing and you prefer the traditional candy corn, we also have those. Choose from as little as one pound or as much as ten pounds. The more you end up ordering, the more you save. Prices start at $10 a pound. But, if candy corn isn't your thing, you can choose from assorted candy gift bags, jelly beans, licorice and many other sweet and sour gummies. We also carry sugar and nut-free chocolates for those with dietary restrictions.
For more information on our candy corn pumpkins or our other products, visit our website or give us a call at (516)829-5785. We will answer any questions you may have. Contact Lazar's Chocolate today!