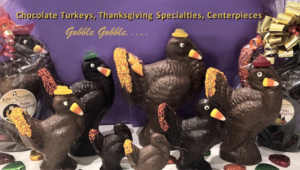 It's not too late to purchase your chocolate Thanksgiving gifts. And at Lazar's, we carry a variety of Thanksgiving treats that will surely be the topic of the dinner conversation, especially if you pick up one of our giant turkey centerpieces. What can be better than two types of turkeys on the dinner table? 
Are you having a large gathering this year? Consider one of our platters. We have a candy platter with a mixture of sour, sweet and gummy candies, an assorted chocolate platter, a chocolate-covered pretzel platter and a platter with a bit of everything. Next to the two turkeys, these platters will be another dinner conversation that will get everyone going. 
Chocolate Thanksgiving gifts don't have to be anything fancy. They can be as simple as miniature foil-wrapped chocolates, solid or hollow turkeys, a box of chocolates and even a chocolate turkey pop. But, if you're really generous, our platters also make great gifts. The holidays are our favorite time of year because it allows us to create these beautiful treats for all types of celebrations. And we like to ensure all faiths are included because every holiday deserves to be celebrated the same way as every other. 
For more information on our chocolate Thanksgiving gifts or other products, visit our website or call us at (516)829-5785. We will answer any questions you may have. Contact Lazar's Chocolate today.