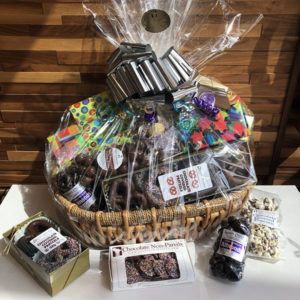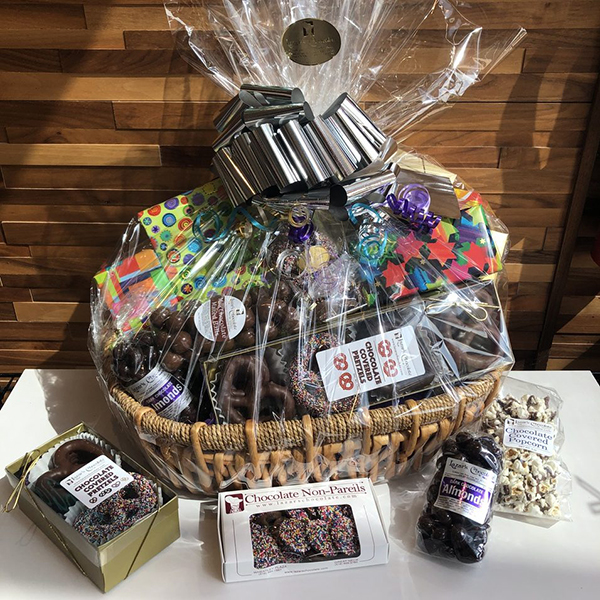 Our corporate gift baskets are the perfect way to go if you want to spoil your team with some delicious goodies. You can choose from various options, such as assorted candy bags, fancy gift baskets, chocolate-covered popcorn and more. And though the season of giving is over, there is always time to show your team how much you appreciate them. 
At Lazar's, we take pride in all of our products. Especially our chocolates, which are handcrafted with care. We are a fourth-generation family of chocolatiers and have two locations in New York. Check out our stores in Great Neck and at the Wheatly Plaza in Greenvale. Stop by, say hello, and grab yourself a sweet treat. Can't make it to one of our stores, no problem. We offer delivery to almost anywhere. Shipping fees vary between locations, and an additional charge for ice and insulation may be added for warmer areas and during the summer months. 
Corporate gift baskets come in a variety of sizes. The bigger the basket, the more they contain. We also carry a variety of platter-style baskets. Some of these baskets include assorted candies, chocolates, chocolate-covered pretzels and a mixture of everything. No matter the size or type of occasion, these platters are perfect for every event. 
For more information on ordering corporate gift baskets, visit our website or call us at (516)829-5785. Contact Lazar's today! We will answer any questions you may have.