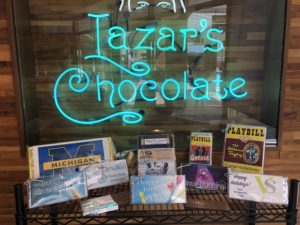 Are you looking for Thanksgiving Chocolate in Great Neck, New York but need help knowing where to go? Lazar's chocolate is the place for you. We carry a variety of Fall and Thanksgiving-themed treats that are perfect for feasts of any size. Whether you're going full out with the family or enjoying a quiet dinner, there is something for everyone.
We love the holidays at Lazar's. They allow us to celebrate and create delicious treats for special occasions of all faiths, from Christmas to Chanukah and everything in between. Our chocolatiers take pride in designing these chocolates. We also understand the need for dietary options. That is why we offer Kosher, nut and sugar-free products. 
The types of Thanksgiving chocolate in Great Neck you will see are miniature foil-wrapped leaves, solid turkeys, hollow turkeys, large centerpieces and much more. And if you're hosting a large gathering, consider one of our assorted platters. Not only do they make for beautiful centerpieces, but they also contain a variety of our popular treats. There are candy platters that include a mixture of sour and sweets, chocolate-covered pretzels, platters of assorted chocolates and a gift platter with everything on it. 
For more information on our Thanksgiving chocolate Great Neck, visit our website or call us at (516)829-5785. We will answer any questions you may have. Contact Lazar's Chocolate today.