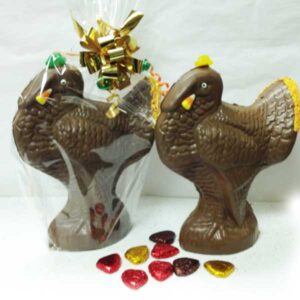 If you're looking for a Thanksgiving gift bag for your celebration, Lazar's Chocolate has you covered. These bags come with 1/4, 1/2, or 1 pound of our delicious milk chocolates shaped like turkeys. You can also find milk and chocolate-shaped leaves available, starting from 1/4 pound to 10 pounds. There's no such thing as too much or too little chocolate.
Thanksgiving is that time of year when it's okay to overindulge, whether it's turkey, stuffing mashed potatoes, and yes, even chocolate and other sweets. So if you're hosting a Thanksgiving celebration and want to serve some sweets, we have just what you're looking for. We have assorted candy platters, chocolate platters, and chocolate-covered pretzels. And if you need something to decorate your table, our giant turkey centerpieces are perfect for you.
A Thanksgiving gift bag isn't the only thing we carry for Thanksgiving. We also have solid chocolate turkeys, personalized boxes of chocolates, turkey pops, milk chocolate nonpareils, and much more. And if sweets aren't your thing, we also have platters of assorted nuts and dried fruits. Celebrate Thanksgiving your way with many of our delicious treats.
For more information on ordering a Thanksgiving gift bag or any of our other products, visit our website or give us a call at (516)829-5785. We will answer any questions you may have. Contact Lazar's Chocolate today!