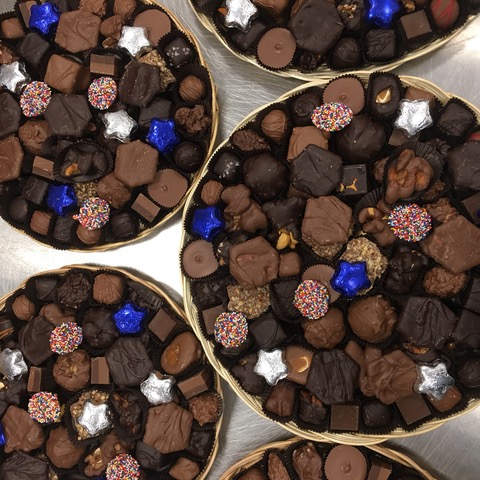 Who doesn't love receiving a box of assorted chocolates as a gift? For chocolate lovers, getting a fancy box filled with a mixture of chocolate is a delightful surprise. At Lazar's, we offer a variety of fancy gift boxes filled with assorted chocolates that will make everyone smile.
These gift boxes range from a 12 piece box to one that contains 2 lbs of our delicious handmade chocolates. If it's something sweet and salty you are craving, we also carry a box of chocolate-covered pretzels and chocolate-covered popcorn. We take great care when crafting all of our products, one bite of any of our products and you will be hooked. But don't take our word for it, try some today.
Our assorted chocolates don't just come in a fancy box; you can also order them in a platter. These platters range from 1.5 to 10 pounds of mixed chocolates. These platters are perfect for when you are hosting big or small events, and you can choose from milk and dark mixed, or just all of one or the other. Included in these platters are an assortment of chocolate-covered nuts, marshmallows, pretzels, truffles, caramels, solid candies and more. Treat your guests with a chocolate tray from Lazar's chocolates. We are sure they will be pleasantly surprised.
For more information on our assorted chocolates, visit our website or give us a call at (516)829-5786. We will answer any questions you may have, contact Lazar's today.