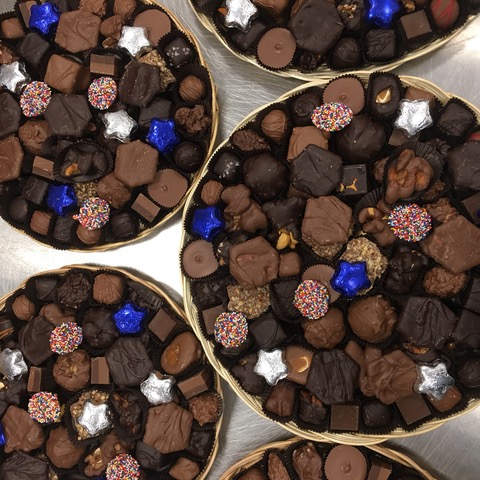 Our panned chocolates are perfect for those who love chocolate covered fruit and nuts. Each of our panned chocolates come in milk, dark and extra dark chocolate. If you are looking for a little extra kick in your chocolate, we recommend our chocolate-covered espresso and coffee beans. For a different taste, try our dark chocolate mint covered lentils, and if you can't decide what you want or want a bit of everything, we also carry a Bridge mix.
Each of the panned chocolates starts at half-pound packages and goes up to five pounds, except for our chocolate covered malt balls. They are only available in half-pound. For those who enjoy chocolate-covered fruit, we carry chocolate covered raisins and dark chocolate cranberries and blueberries.
Panned chocolates are a delicious party treat and make the perfect host gift. All of our chocolates are delicately hand-crafted with care and will leave guests coming back for more. For a different treat, try our dark chocolate rum cordials, they have the taste of rum without the alcohol.
At Lazar's, we take chocolate seriously, so if you are looking for a sweet treat with a twist, try our panned chocolates. And for more information about our other products including our seasonal ones, visit our website or give us a call at (516) 829-5785. We will answer any questions you may have.