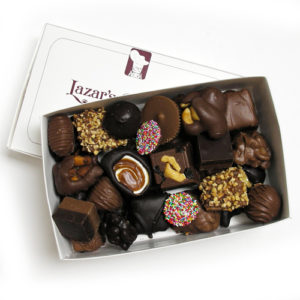 If you are looking for delicious hand-dipped chocolates, then Lazar's is the place to go. We have everything from chocolate nut patties to barks, marshmallows, fruits, and more. There is something for everyone in our hand-dipped section. These chocolates make for a great gift or just something to have around the house as a snack. We guarantee you will be hooked after just one bite.
As a fourth-generation family of chocolatiers, we know sweets and how everyone should be able to enjoy them. That is why we try and cater to specific dietary needs such as nut-free and kosher. We also like to celebrate holidays on every occasion, so that everyone can feel included. Our chocolates, candies, and other treats make for great gifts and party favors. If you are hosting a party, check out the selection of party platters. They make a great addition to any party or gathering, whether small or large.
Our hand-dipped chocolates are famous, and most are available in white or dark chocolate or a mixture of both. And some of our boxes range in size from half a pound to three pounds. If you are looking for something sweet with a bit of savory, why not try our chocolate-covered pretzels and pretzel rods. These treats will give you the best of both worlds.
For more information on how to order our hand-dipped chocolates visit our website or give us a call at 1(516)829-5785. We will answer any questions you may have. Contact Lazar's today!
hand dipped chocolates