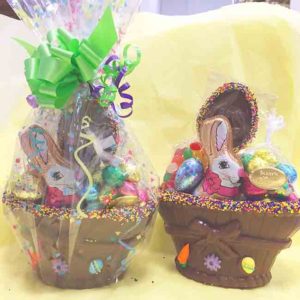 An Easter gift set is a perfect solution if you're unsure what kind of Easter treat you want to give to someone special in your life. Each of these boxes contains a variety of our delicious chocolates, jelly beans, and springtime favorites. And the best part of all, they come prewrapped and ready to be given away.
At Lazar's, we like to make sure to include every holiday, so if you and your family celebrate Passover, you will be happy to know that we carry Kosher chocolates and Jelly Fruit Slices to help you celebrate. And if you want to be extra cautious when it comes to consuming our products, we also have a dried fruit and nut tray.
Sizes for the Easter gift set range from small to jumbo, but they all contain the same type of products. The size you want to give away is up to you, but if you get a jumbo size, whoever is getting it may be inclined to share some with you. But if not, you could always grab one for yourself because everyone deserves a treat on Easter. No matter what the size.
For more information on our Easter gift set or any other products, visit our website. Or give us a call at 1(516)829-5785, we will answer any questions you may have. Contact Lazar's Chocolate today!