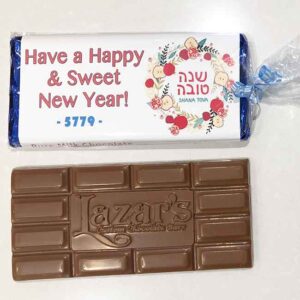 Lazar's Chocolate would like to wish a very Happy New Year to our Jewish customers. To help them celebrate the occasion, we have created a variety of New Year's themed chocolates that everyone will enjoy, whether you are giving them as a gift or bringing them to the table for a party.
If you are hosting a gathering with family or friends, our party platters are perfect for the occasion. We have many options to choose from, like candy, assorted chocolates, chocolate-covered pretzels, chocolate fruit and nuts, and just fruit and nuts. Each of these platters ranges in size from small to extra large. Party platters make a great centerpiece, and they ensure that everyone gets something they'll enjoy.
A great way to say Happy New Year to your loved ones is by giving them a chocolate gift box or gift set. You can also celebrate the occasion with some of our novelties, including chocolate Shofars, a chocolate Star of David pop, chocolate-covered apples, a filled chocolate apple dish, New Years Chocolate Bar, and Jelly slices. There is something for everyone at Lazar's.
Have a Happy New Year from all of us at Lazar's. For more information on any of our products and placing an order, visit our website or give us a call at 1(516)829-5785. We will answer any questions you may have. Contact Lazar's today!
Happy New Year