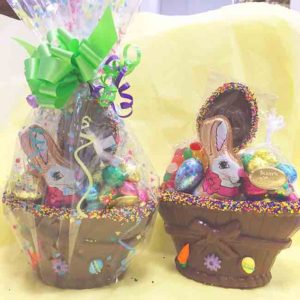 If you're looking for the perfect chocolate Easter basket, then Lazar's chocolate is the sweetest place for you to shop. We carry a variety of Easter-themed treats for everyone on your list just in time for the holidays. Sizes range from small to large and come in the chocolate form or the traditional wicker basket.
There are plenty of Easter treats on our list, and they include some traditional chocolate eggs and solid chocolate bunnies. Some of these bunnies even come on a stick, and if you're looking for a twist on a classic Easter treat, why not try our chocolate-covered marshmallow peep.
A chocolate Easter basket, whether it's big or small, comes with a chocolate bunny, eggs, and jelly beans in an edible chocolate basket. Our chocolate pretzel baskets come with assorted pretzels also in an edible chocolate basket. And if that seems like too much chocolate, consider one of our mini Easter gift bags. We fill these cellophane bags with an assortment of all our Easter treats, all neatly wrapped with ribbons and a fancy bow.
For more information on a chocolate Easter basket, visit our website or give us a call at 1(516)829-5785. We will answer any questions you may have. Contact Lazar's today for all your Easter essentials, and you'll be saying Easter Bunny who? We're joking. He helps keep us in business.