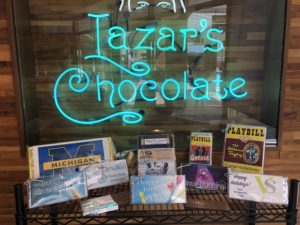 At Lazar's, we are dedicated to earning our reputation as one of the best gourmet chocolate shop. With four generations of chocolatiers behind us, we take pride in delivering only the best products to our discerning customers. Our delectable range encompasses a wide variety of treats, ensuring there is something to satisfy every sweet tooth. From velvety milk chocolate to rich dark chocolate bars, sumptuous chocolate-covered nuts and fruits, irresistible gummy candies, and an array of other mouthwatering delights, we have it all.
We understand that preferences and occasions vary, which is why our products come in various sizes. Whether you're indulging yourself and a loved one or hosting a grand gathering, we can cater to your needs. Furthermore, if you're seeking party or wedding favors, our collection offers a range of options to suit any occasion. Our gift boxes can be customized to complement your wedding or party theme, adding a personal touch to your celebration. And for the young and the young at heart, we invite you to explore our chocolate novelties and the delightful treasures found in our kids' corner, where fun-shaped treats await.
At Lazar's, we believe that everyone should be able to enjoy the best gourmet chocolate shop, regardless of dietary restrictions. That's why we offer an assortment of nut-free, sugar-free, and kosher products. Just like our other delectable creations, these treats are made with the finest ingredients, ensuring that dietary limitations do not compromise the taste and quality. Prepare to be amazed as our sugar-free options prove that indulgence knows no bounds, captivating your taste buds with each delightful bite.
When you embark on the quest for the best gourmet chocolate shop, look no further than Lazar's. To learn more about any of our exquisite products, we invite you to visit our website or reach out to us at 1 (516) 829-5785. Our dedicated team is eager to assist you and answer any questions you may have. Indulge in the unparalleled pleasure of Lazar's gourmet chocolates today.