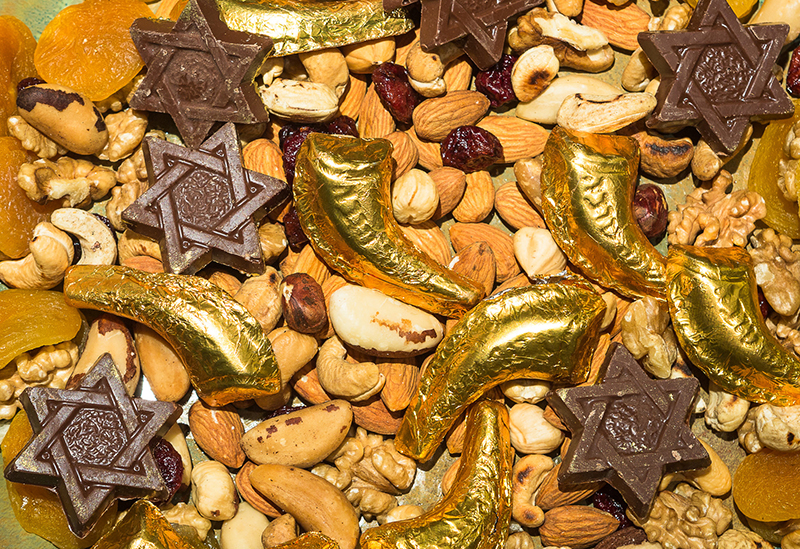 At Lazar's, we understand and respect those celebrating different cultures and holidays. This is why all of our products are made with Kosher ingredients, with many certified as Kosher.
For those who are not familiar with the term Kosher, it is a Hebrew word that means "fit." When a product is labeled "Kosher", it means that it is okay for Jewish people to eat. Kosher pareve means food that is prepared without meat, milk or their derivatives.
Examples of kosher foods are beef, chicken, salmon, tuna and milk.
Dark chocolate is considered Kosher since it only contains cocoa beans, vanilla beans, and sugar.
Here is a list of facts on Kosher products at Lazar's Chocolates:
– Our store is not under Kosher supervision, but many of our products are manufactured under supervision.
– Glatt refers to meat, therefor our chocolates are not Glatt.
– If there is a Kosher label, then it has been certified Kosher.
– You can give someone anything with Kosher ingredients while others require certification.
– We carry Kosher-Pareve products such as dark chocolate almonds, mints, espresso beans, and rum cordials.
– Our Kosher-Dairy candy consists of low-calorie butter scotches, chocolate mints, cinnamon, assorted fruit, licorice bites, and Twizzlers.
During Hanukkah, we offer chocolates to celebrate the holiday. Some of these products include plastic dreidels with chocolate gelt, a six-pack of Hanukkah symbols, and a bulk pack of chocolate gelt.
If you have any questions about our Kosher products, visit our website or give us a call at 516-829-5785. We will answer any questions you may have.