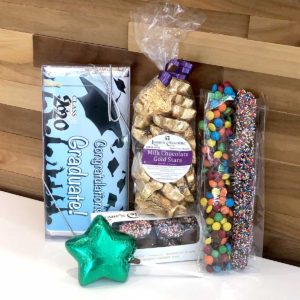 Are you looking for high school graduation chocolate for your student to celebrate their big accomplishment? Then Lazar's Chocolate has you covered? We have an assortment of graduation-themed chocolates that are the perfect way to congratulate them on achieving one of their most significant milestones.
Students and graduates aren't the only ones who deserve chocolate, but so do the teachers. We carry a variety of treats that make perfect gifts for that special teacher or teachers who've made an impact on your student's life, such as teacher award ribbons, personalized teacher chocolate bars, and gift baskets, and happy chocolate and candy gift sets. But if chocolates aren't their thing, we also have an assortment of other sweet and savory treats.
Some of our high school graduation chocolate bars come in milk, dark, 72%, and white and can be personalized with your grad's name, and they are available in 8 ounces and 16-ounce sizes. If you're looking for something with a little more color, consider giving a bouquet of roses or tulips. Some of the roses are available in red, fuchsia, and lavender and come in singles, three, six, and one dozen.
For more information on our high school graduation chocolate or any of our other products, visit our website or give us a call at 1(516) 829-5785. We will answer any questions you may have. Contact Lazar's today!