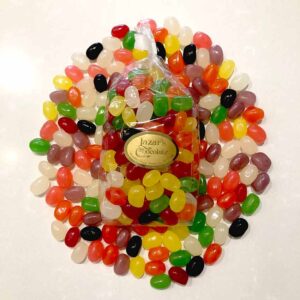 Assorted jelly beans are known for their crunchy shells and soft centers. They are a sweet and colorful way to brighten any candy lover's day. You can place them in a candy dish or a jar for a colorful centerpiece. And at Lazar's Chocolate, we have a variety of jelly beans for everyone to enjoy. Sizes range from 3/4 pounds up to 10 pounds.
There is something for every candy lover at Lazar's. If you're looking for more delicious candy options, then we have the treats for you. We carry many different types of candy, ranging from gummies, sour gummies, licorice, and even chocolate-covered gummy bears. And if you're hosting a party, consider one of our candy platters. They come with a wide range of our favorite gummies and sour candies.
Assorted jelly beans are especially popular during the Easter season. We have five different types of jelly beans: Jelly Belly 49 flavors, Just Born, Pectin Fruit, Teenie Beanie, and finally, all licorice-flavored. Try them all and see which one is your favorite. It can be hard to choose from many types to select just one.
For more information on our assorted jelly beans, candies, chocolates, and other treats, visit our website or give us a call at (516)829-5785. We will answer any questions you may have. Contact Lazar's Chocolate today!
assorted jelly beans