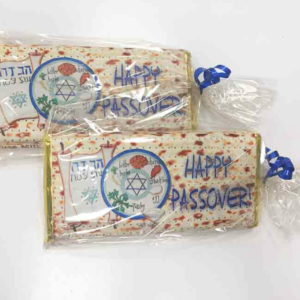 We aren't bragging, but we have the best Passover chocolates. If you don't believe us, try our chocolates out for yourself. We have something for everyone, from chocolate-covered macaroons to a Passover chocolate Star of David Pop. There are even fruit jelly fruit slices for those who aren't quite into chocolate. We have even included a platter of chocolates, fruits, and nuts to have the best of all worlds.
Speaking of candy, if that's more of your style and you're having a celebration, whether it's for Passover or Easter. Our assorted candy platters may be just what you are looking for. These platters range in size from small to extra large. The bigger the platter, the more candy you get. Each platter contains a variety of favorites which include sour and gummies. There is something for every candy lover.
So, when looking for the best Passover chocolates, look no further than Lazar's chocolates. Whether you are purchasing for yourself or someone special, we will hook you up with something sweet for your Passover celebration. If you think we missed something that we should have included for Passover, let us know, and we can create something for next year's Passover.
For more information on our best Passover chocolates and to place an order, visit our website or give us a call at 516-829-5785. We will answer any questions you may have.
best passover chocolate