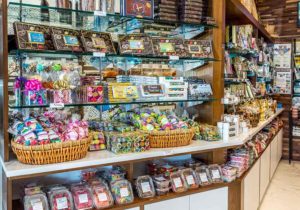 At Lazar's, our Great Neck chocolate shop location is just one of the ways to get your hands on our delicious handmade treats. So, if you're in the area, drop-in, say hi, and take a look and what we have created. We are sure you'll be pleasantly surprised. Best of all, our shops are run by family members. There's nothing like a family-run business.
One of the best parts about owning and running our chocolate and candy shop is creating different treats for all occasions. Whether it's for a wedding, baby or bridal shower, religious holiday, graduation, etc. We try to make something that everyone will enjoy. With this in mind, we also have a selection of special dietary needs treats like nut-free chocolates and sugar-free candies. Can't find what you're looking for, or don't know what to get? All you have to do is give us a shout, and we'll help you out.
Not able to visit our Great Neck chocolate shop? Have no fear. There are other ways to get your hands on our treats, such as ordering online and shipping them to you. We deliver to pretty much anywhere, with additional costs to make sure your treats get to you safely.
For more information on how to get to our Great Neck chocolate shop, visit our website or give us a call at (516)829-5785. We will answer any questions you may have. Contact Lazar's today.\
great neck chocolate