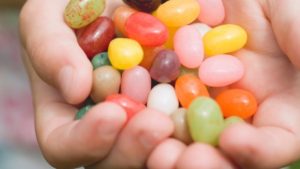 If you and your family love jelly beans, then you are in luck because, at Lazars, we carry only the finest jelly beans there are. From 49 assorted flavors to black licorice, there is something for everyone. Buy them for yourself, your family, or someone else in your life who enjoys a sweet treat.
As a fourth-generation chocolate family, we take chocolate very seriously.   That is why we only put the finest ingredients in all of our products. We also consider certain dietary restrictions, such as nut allergies, sugar-free and kosher diets, so we have created treats explicitly tailored to those needs. 
Our jelly beans come in a range of sizes from 3\4 of a pound all the way up to 10 pounds, perfect for those looking for a little or a lot. Jelly beans make for an ideal display in a candy jar or pack away in an Easter basket, or for you to enjoy them by the handful. However, you like your jelly beans, consider purchasing them from Lazar's Chocolate. Once you buy them from us, you'll never go anywhere else. While you are here, why not view the many other delicious candies that we carry. 
For more information on our jelly beans or any other products, visit our website or give us a call at 1(516)829-5785. We will answer any questions you may have. Contact Lazar's today!