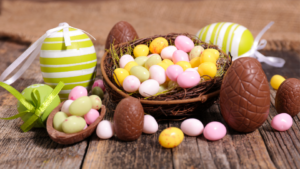 There is nothing like searching for milk chocolate eggs on Easter morning. It can be fun for the kids searching for them and the adults who hide them. This Easter tradition has been around in the United States since 1878. Only back then, they were colored eggs instead of chocolate. Boy, are we glad times have changed. Chocolate eggs are much better.
Eastertime is when all the bright colors come out that make us feel like Spring is finally here. At Lazar's, we wrap our Easter in traditional Easter colors. And classic shapes like bunnies, chicks, carrots, and of course, eggs. Easter is not the only holiday we celebrate. We also carry a variety of treats that are perfect for Passover.
If milk chocolate eggs aren't the only Easter treats you enjoy, we also carry dark chocolate and peanut butter. We also have milk chocolate crispy eggs for something with a little bit of a crunch. And if you're more of a jelly bean fan, which is another traditional Easter treat. We have those as well. Our jelly beans come in the following flavors, traditional, Jelly Belly, pectin fruit, Teenie Beanie, and licorice. There is something for everyone during Easter Time at Lazar's.
For more information on our milk chocolate eggs or other Easter and Passover treats, visit our website or give us a call at (516)829-5785. We will answer any questions you may have. Contact Lazar's today.
milk chocolate eggs