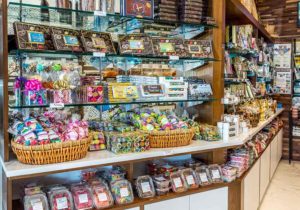 Looking for the best New York chocolate shops, look no further than Lazar's Chocolates. We offer some of the best handmade sweets there is, from the traditional solid chocolate bar to a wide variety of hand-dipped chocolates. Our chocolates are perfect for any occasion, whether you are celebrating an important milestone or looking for a gift for that special someone.
Sometimes chocolate isn't for everyone, and that's okay because we offer more than just chocolate. We also carry various gummy and sour candies, licorice, and jelly beans. And if you're planning on having a party, consider our assorted candy platter. These platters come with a mixture of everything, making them the perfect addition to your celebration. We also carry chocolate platters that contain a variety of our famous hand-dipped chocolates.
So, what makes our stores the best New York chocolate shops? If we'd have to guess, we'd say because we're a fourth-generation family of chocolatiers? Or that we take care in crafting all of our sweets, or maybe because we like to create different treats for every occasion and holiday of every faith. There are many reasons to shop at Lazar's. Visit one of our two stores in Great Neck or the Wheatly Plaza in Greenvale. Can't make it out? No problem, we can deliver to almost anywhere.
For more information on the best New York chocolate shops, visit our website or call us at 516-829-5785. We will answer any questions you may have.
new york chocolate shops