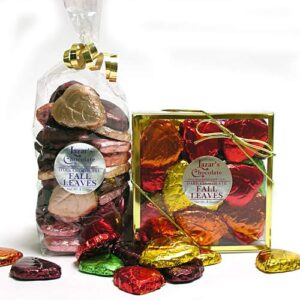 Thanksgiving chocolate gift boxes are back and just in time for the fall season. With Thanksgiving only a few weeks away, you're probably already planning the weekend. Why not include some delicious treats from Lazar's chocolates? Not only are they good to eat, but they also make beautiful centerpieces for the Thanksgiving table.
Hosting any gathering can be fun, especially when it comes to decorating. One of the places that need trimming is the table. And we have just the thing for you, giant centerpiece chocolate turkeys. These adorable and delicious chocolate treats will surely be the talk of the table. Who can resist turkey for dessert?
Our thanksgiving chocolate gift boxes come in various styles, including leaves, mini turkeys, milk, or dark chocolate. We also carry a personalized chocolate gift box with a Thanksgiving-themed chocolate bar in the middle, along with a variety of our chocolate treats in milk or dark chocolate. So if you're not hosting Thanksgiving this year, treat your host to one of our sweet thanksgiving treats. But if you are hosting a large Thanksgiving feast, consider treating your guests with our assorted chocolate and candy platters.
For more information on our thanksgiving chocolate gift boxes or other Thanksgiving, goodies visit our website or give us a call at (516)829-5785. We will answer any questions you may have. Contact Lazar's today!
thanksgiving chocolate gift boxes