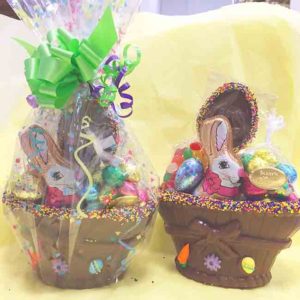 Traditional Easter baskets are a colorful and sweet way to celebrate every chocolate and candy lover's favorite holiday. Easter. At Lazar's, we fill our baskets with a wide range of Easter-friendly treats like jelly beans, bunny-shaped chocolates, crispy malted eggs, and other spring-themed sweets. All of the chocolates are made with our famous recipe.
Easter is not the only themed chocolates we have right now. We also carry a variety of treats for Passover, such as chocolate-covered macaroons, Matzoh, frogs, and Passover Seder plates. We also have nut and dried fruit platters, just nuts and dried fruits and jelly fruit slices. Every holiday is worth celebrating. That is why we try and create treats for holidays of various faiths.
When you order a traditional Easter basket, you can choose from a small basket or go as big as our jumbo basket. We then stuff these colorful baskets with the treats mentioned above and wrap them with shut with a bright bow and ribbons. Present them to your family, friends, co-workers, or anyone who enjoys Easter and handmade chocolates. Even pick one up for yourself, small or large. We won't judge.
For more information on our traditional Easter baskets, Passover treats, and any other products or how to place an order, visit our website or give us a call at (516)829-5785. We will answer any questions you may have. Contact Lazar's today!
traditional easter baskets