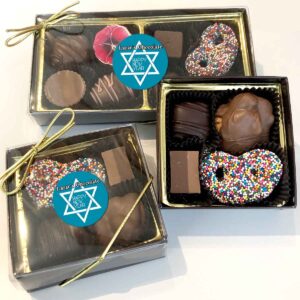 Chocolate has been a favorite of many people for as long as it's been around. We enjoy it on Halloween, Christmas, Valentine's, Easter, and many more special occasions. But did you know that chocolate means much more to the Jewish community?
During the early 1600 and 1700s, chocolate was a drink created by the Jewish People. Brothers David and Rafael designed the machine used to process and refine sugar. After the Dutch banned the brothers from trading sugar, they started trading Mexican cocoa and vanilla. Eventually, the brothers controlled Mexico's chocolate business, only to end in 1690 after the arrival of French Settlers.
In the 1600s, Benjamin d' Acosta de Andre, a Portuguese Jewish man, built the early chocolate processing machine in Dutch Brazil. It was here he could practice his faith openly until 1645 when the Portuguese recaptured the area. Benjamin moved to the Caribbean Island of Martinique and started trading cocoa with other Jewish traders.
Some traders became jealous of the success of the Jewish traders and even went as far as banning and removing Jewish traders from the Island of Martinique. Benjamin and other Jewish traders started a new life in the Netherlands-ruled island of Curacao and Jamaica, controlled by the British. It was on these islands where their chocolate drink became popular.
As time went on, Jewish chocolatiers faced highs and lows. But they always came back triumphant.
Did you know that it was a Jewish teen who invented Sachertorte? In 1832, during a banquet for Prince Klemens von Metternich of the Austro-Hungarian empire, the main cook got sick, so his 16-year-old apprentice France Sacher stepped in and made a sponge cake with chocolate, filled it with apricot jam, and served it with whipped cream.
The cake was a huge success and is one of the most enjoyed cakes worldwide.
During Nazi-ruled Europe, Eliyahu Fromenchenko escaped Latvia to Isreal, where he founded Elite.
In 1938, Stephen Klien left Austria for New York and founded Bartons Bonbonierre, which we now know as Barton's Candy.
So, why is chocolate important to the Jewish community?
It represents their business success during times when their faith was oppressed. But it also goes back much further. The Jewish community enjoys chocolate and other foods to celebrate their liberation from slavery during Passover, God's creations during Rosh Hashanah, the festival of lights for Chanukah, and many more Jewish holidays.
At Lazar's, we try and create chocolates for all faiths. For more information on our products, including Kosher, visit our website or call us at (516)829-5785.