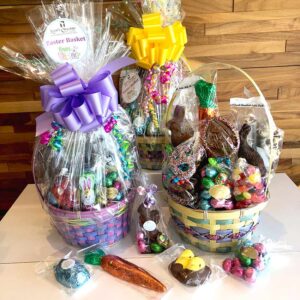 Collecting the best chocolate Easter eggs is a tradition for those who celebrate the holiday. Some parents hide them in plastic eggs, while others leave them as is. At Lazar's, our eggs come in milk and dark chocolate. And if you're looking for something different, why not try our crispy milk chocolate eggs or pastel malted milk eggs?
Easter isn't the only holiday we provide treats for. We also carry a variety of Passover treats, from five-ounce chocolate bars to jelly fruit slices and everything in between. And if you're hosting a large gathering with family and friends, why not try our platter of assorted chocolates, dried fruits and nuts? Remember that even though we make our treats with Kosher ingredients, they are not certified. 
Chocolate Easter eggs are not the only treat we carry. The traditional chocolate bunny is also available in various sizes and types. These bunnies can come in milk, white and dark chocolate. But if chocolate isn't your thing, though, what's Easter without chocolate? We also carry jelly beans and other gummy and sour candies. If you are planning an Easter dinner and would like to offer your guests a variety of treats, consider one of our assorted chocolate or candy platters. 
For more information on our best chocolate Easter eggs and other treats, visit our website or call (516)829-5785. We will answer any questions you may have.