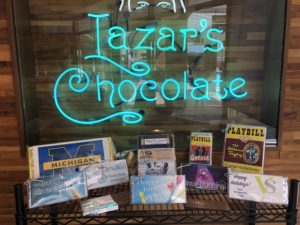 Who has the best chocolate in New York? Why Lazar's Chocolate, of course? And what makes us the best? Maybe because we are a fourth generation of chocolatiers and handcraft all our chocolates, or because we create treats for all occasions, including weddings, graduations, religious holidays and much more.
Speaking of graduations, it's nearly that time of year when your student ends their journey and begins another one. Our graduation chocolates are the best way to congratulate your student on a job well done. There is something for the teachers as well. And if chocolate isn't the answer, why not try some of our candies. We have a wide selection of gummy and sour candies that any candy lover will enjoy.
How do you get your hands on the best chocolate in New York? We have two stores. One store is located in Great Neck, and the other at the Wheatley Plaza in Greenvale. But if you can't make it out, we deliver to almost anywhere in the world. Shipping costs depend on where you live and the time of year, as we charge a little bit extra in the warmer months for ice packages and insulation to keep your products nice and cool.
For more information on why we have the best chocolate in New York, visit our website or call us at 516-829-5785. We will answer any questions you may have.