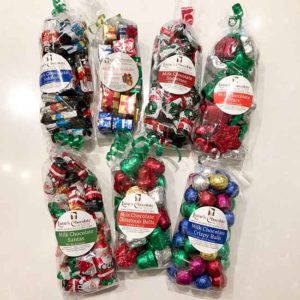 Not to brag, but the best Christmas Chocolate in New York can be found at our store, Lazar's Chocolate. We carry a variety of Christmas treats perfect for celebrating the holly, jolly season. From foil-wrapped individual chocolates to chocolate Santas and everything in between. Celebrate the Christmas season with chocolates from Lazar's Chocolate.
The holiday season is for celebrating with friends and family and filling the table with delicious food for all your guests. Our platters are perfect for such an occasion. We have platters for chocolate and candy lovers alike. Not only do they look great on a table, but they also make for great gifts. Speaking of gifts, we also carry gifts for teachers. But, of course, nothing can beat the treats you get from Santa. 
What makes ours the best Christmas Chocolate in New York? Is it because we're a fourth-generation family of chocolatiers? Or that we take our time and care to craft our chocolates? It could be because we try to include all faiths when creating delicious treats. Whatever the reason may be, you should try for yourself. If you haven't already. We guarantee you'll be satisfied with whatever you get. 
For information on the best Christmas chocolate in New York or any other products, visit our website or call us at (516)829-5785. We will answer any questions you may have. Contact Lazar's today.