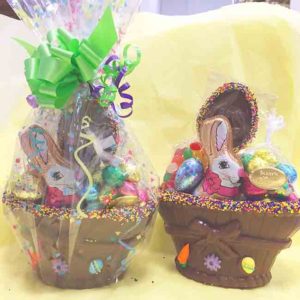 A bunny gift bag is an adorable way to celebrate Easter. These handcrafted Easter treats are available in milk or dark chocolate. Give one away to your loved one, friend, coworker, or pick one up for yourself. You get the best of both, a chocolate bunny and brightly wrapped chocolate eggs in this set.
At Lazar's, we have many treats for the Easter holiday. From the traditional chocolate eggs to the favorite spring treat, jelly beans. And if you would like to give away something with a little bit of everything, our Easter gift sets are perfect for that special someone. Each gift set comes with a mixture of Easter favorites wrapped in colorful gift wrap.
Now, if a bunny gift bag or Easter gift set just isn't enough. And if you want to go bigger, consider one of our Easter baskets. These baskets come in small, medium, large, extra-large sizes, and even jumbo. These baskets are filled to the brim with many Easter treats, including jelly beans, bunnies, crispy malted eggs, and many more sweet treats. And carefully wrapped with cellophane and tied together with a colorful bow. We can only imagine the look on your loved one's faces when they receive a giant Easter basket.
For more information on our bunny gift bag or any of our other Easter treats, visit our website or give us a call at (516)829-5785. Contact Lazar's today! We will answer any questions you may have.