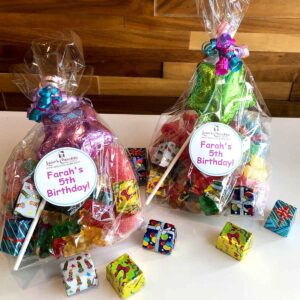 Our candy party bags are the perfect party favors for your next event. Whether it's a birthday party, shower, family gathering, work event, and more, these bags of assorted candies and chocolates are a great way to say thank you for coming. These treat bags come with customizable label options to make them your own.
You're never too old to enjoy a sweet treat, and with the many options that Lazar's Chocolate offers, it can be tough to choose. When you find the perfect sweet, we guarantee you'll love it and come back to try others. Lazar's also offers nut and sugar-free options for those with allergies and dietary restrictions. Nut-free chocolates are also perfect for school treats.
Candy party bags aren't the only way to celebrate a party or gathering. If you are entertaining a large crowd, consider our candy platters. Available in sizes ranging from small to extra large, these plates come with various candies ranging from sour to sweet. These trays allow your guests to choose their favorite candy on their own. Don't worry. We didn't forget about our licorice lovers. There is a variety of licorice treats for you to enjoy.
For more information on our candy party bags, visit our website or give us a call at (519)829-5785. We will answer any questions you may have. Contact Lazar's today.