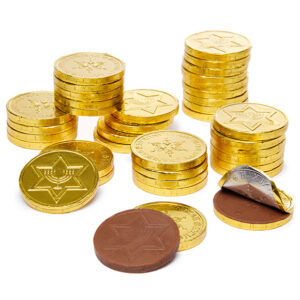 If your holiday tradition is giving away chocolate Chanukah gelt, Lazars Chocolate has just what you need. Our bulk gelts start with as little as 1/4lbs of chocolate to 10 lbs. And did we mention that there is a 20% discount with a 10lbs order? These chocolate treats are the perfect way to celebrate Chanukah.
Embracing other cultures' holidays is important to us, and that is why we try to include different holiday-themed treats when the time comes for it. So if you're looking for themed goodies for your celebration or any other day, consider Lazar's many candies and chocolates. And if sweets aren't your thing, we also have platters of dried fruits and nuts.
Our chocolate Chanukah gelt comes with iconic Chanukah images like menorahs, dreidels, and six-point stars. These treats make for a perfect table decoration or are given to the kids or the kid at heart as gifts on each of the eight nights of Chanukah. But we didn't just stop at chocolate gelt, and we also have various other Chanukah-themed sweets such as dreidels, Star of David pops, menorah pops, and much more. There is something for everyone at Lazar's Chocolates.
For more information on our chocolate Chanukah gelt or any of our other themed chocolates, visit our website or give us a call at (516)829-5785. Contact Lazar's today!