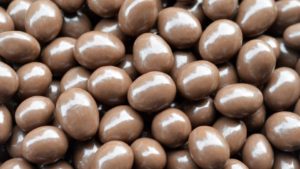 Chocolate-covered almonds are the perfect treat for someone who loves a little crunch with their chocolate. These little sweets are available in dark, extra dark, and milk chocolate flavors. And come in as little as a half-pound bag to two-pound bags. So you can have as few or as many handfuls as you'd like.
For as long as it has been around, chocolate has been almost everyone's go-to when they want something sweet. And it can be used for pretty much everything, for baking, party favors, snacking, fundraising, and so much more. At Lazar's, we take our chocolates very seriously. All of our chocolates are handcrafted with care, and because we want everyone to enjoy our chocolates, we also carry nut and kosher-free products. 
If you're looking for something more than chocolate-covered almonds, we also have chocolate almond bark, chocolate almond patties, chocolate butter crunch, and more. But if you're looking for something without chocolate, perhaps some nuts without chocolate, we carry trays of assorted fruit and nuts, mixed nuts on their own, and just almonds. There is something for everyone at Lazars. We even have some of your favorite candy. 
For more information on our chocolate-covered almonds or any of our other products, visit our website or give us a call at 1(516)829-5785. We will answer any questions you may have. Contact Lazar's today!