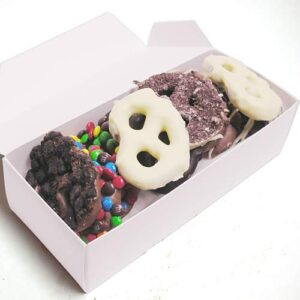 Chocolate-covered pretzels are the best of both worlds. You get something savory and sweet all in one bite. And at Lazar's Chocolate, we carry a variety of these treats for you to try. They include milk, dark and white chocolate, cookies and cream, milk chocolate M&M covered, milk chocolate with sprinkles, and milk chocolate with Reeses Pieces. Pretzel packages start at 1/2 lbs and go up to 3 lbs.
If you're one of those chocolate lovers who enjoy a little fruit with their chocolates, you'll enjoy our chocolates with fruity centers. We even have fruits that you aren't expecting, like apricots, pineapple, and dark chocolate-covered orange peels. And, of course, we have the classic chocolate-covered raisins. Available in a mixture of milk and dark chocolate or just milk or dark chocolate. Sizes start at 1/2 lbs and go up to 3 lbs.
We even carry chocolate-covered pretzel rods and mini pretzels if you are looking for something a little smaller and easier to enjoy. Pretzel rods come in milk and dark, milk chocolate M&M's or milk chocolate with sprinkles. And like our other chocolates, sizes start at 1/2 lbs and go up to 3 lbs. The more you buy, the better the savings.
For more information on our chocolate-covered pretzels, visit our website or give us a call at (516)829-5785. We will answer any questions you may have. Contact Lazar's today!