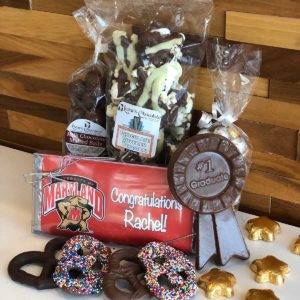 Our chocolate graduation gift baskets are the perfect way to congratulate your student on their hard work, no matter the school level, whether elementary, high school, college, or university. We carry a variety of gift baskets, from fancy gift baskets to our platter-style baskets. There is something for everyone here at Lazar's. 
Are you planning a graduation celebration and wondering what you can put out to wow the guests? Our platter-style baskets aren't just for giving as gifts. They also make an excellent spread for all types of parties and celebrations. Choose from our assorted candy platter, which contains various sour and sweet gummies, chocolate-covered pretzels, and assorted chocolates. Or if you want a little bit of everything on one platter. Some platters include everything you could ask for, candy, chocolates, pretzels, and popcorn. 
So, why choose our chocolate graduation gift baskets? Well, all of our chocolates are handmade by a family of chocolatiers. We take pride in all our products and always come up with ways to celebrate all occasions. We also work hard to provide treats to those with dietary restrictions, such as nuts, sugar-free and kosher. 
For more information on our chocolate graduation gift baskets or our many other products, visit our website or call us at (516)829-5785. Contact Lazar's today! We will answer any questions you may have.