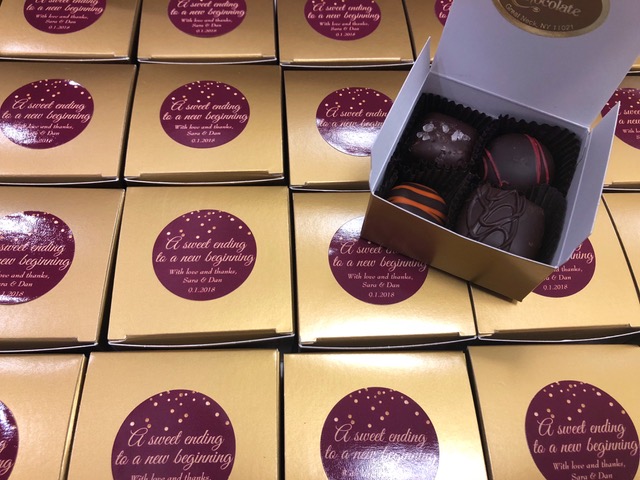 There's no sweeter way to say 'thank you' than with chocolate party favors! Whether it's a wedding, birthday, bridal shower or any celebration, chocolate favors are a delicious treat that all guests can enjoy. At Lazar's Chocolate, our tried and true family recipe has been around for 70 years and counting. Currently, at our two New York locations, we strive for perfection every day, handcrafting the finest treats with love and care.
We'll work closely with you and your vision to create the perfect party favors for any event. At Lazar's, we have a large variety of chocolate party favors to choose from, starting with our neatly wrapped ornate boxes. These hand-wrapped boxes are tied with perfectly curled ribbons, which will be a sure way to impress your guests. If you want to go bigger, take a look at our small gift bags with individually wrapped chocolates for an even greater surprise! To suit every occasion, we've also got endlessly fun, molded chocolate pops and shaped chocolates that can work with any occasion. Some examples are:
Crosses
Butterflies
Princess Crowns
Baby Shirts
Baby Carriages
Baby Booties
Initials or numbers
Chocolate covered pretzels & more!
Chocolate party favors can be used as a gesture of thanks, mementos of a great event, or simply a way to add a little fun. But no matter the occasion, chocolate party favors will always help your guests feel extra special. We also ship worldwide, so no matter the distance, you can count on the unbeatable taste of Lazar's Chocolate.
For more information or if you have any questions, call Lazar's Chocolate today at (516)-829-5785.