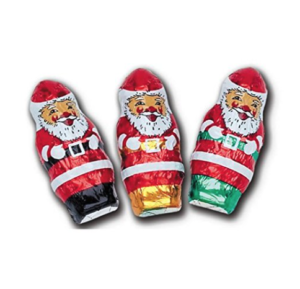 It's Christmas time, and our chocolate Santas are the perfect way to celebrate the most wonderful time of the year. This chocolate treat in the shape of the big guy himself is available in different sizes and comes in milk or dark chocolate. They make perfect stocking stuffers or to give away.
Christmas is the time to fill our stomachs with delicious foods such as turkey and all the stuffings, but let's not forget the sweet treats and what's the best treat of all? Why chocolate, of course, and at Lazar's, we carry a wide variety of chocolates, candies, and more. Perfect for the holiday season.
Chocolate Santas are not the only Christmas shaped treat we carry. We also have stars, bells, presents, toy soldiers, snowmen, Christmas trees, and more. If you are looking for something more personable, we have chocolate bars that you can customize the way you want them. These chocolate bars are available in milk, white, dark, and 72% extra dark.
So if you are looking for chocolate Santas to go down your gingerbread chimney, grab yourself a few of them from Lazar's Chocolates. And for more information on any of our products, visit our website or give us a call at 1(516)829-5785. We will answer any questions you may have. Contact Lazar's today and have yourself a very Merry Christmas.