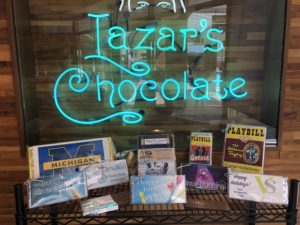 Discover the ultimate candy haven in Wheatly Plaza at Lazar's Chocolate, your go-to chocolate shop. Our store boasts a delightful assortment of chocolates and sweets that are sure to please everyone. From classic chocolate bars to meticulously curated assorted chocolates, gummy candies, and sour treats, we have an array of options that will leave you craving for more. Prepare to be thoroughly satisfied when you step into our stores.
Can't make it to one of our physical locations? Fear not! We offer shipping services to almost anywhere, ensuring that you can still indulge in our delectable treats. Rest assured, we take great care in ensuring the safe delivery of your goodies. Please note that there is a nominal ice pack fee for shipping to warmer regions or during the summer months. Shipping rates may also vary depending on the destination.
At our Wheatly Plaza chocolate shops, holidays are our specialty. It has become our tradition to craft delightful treats for celebrations of all faiths. But we don't stop at holidays alone. We also provide an assortment of party favors for weddings, showers, and more. If you're planning a memorable celebration and want to leave your guests in awe, consider one of our beautifully arranged platter baskets. Choose from an assortment of chocolates, candies, or even a mix of fruits and nuts. These exquisite packages will keep your guests talking for days on end.
To learn more about our Wheatly Plaza chocolate shops, we invite you to visit our website or give us a call at (516)829-5785. Our team will gladly address any inquiries you may have. Contact Lazar's today and embark on a journey of unparalleled chocolate bliss.