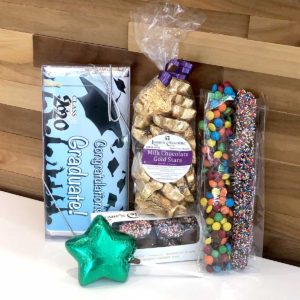 It's never too late to think about chocolate teacher gifts. Even though the school year is over, there is still time to give away delicious treats to the educators in your lives. Some teachers work throughout the summer to help their students achieve greatness. And for all their hard work, they deserve something special.
When it comes to our products, we have many options for picking from our famous hand-dipped chocolates to miniature foil-wrapped and even signature chocolate bars. We also carry nut-free chocolates for those with nut allergies. And if you're more into candy, we haven't forgotten about you. There are plenty of sour and sweet candies for you, including jelly beans.
Chocolate teacher gifts aren't the only options we carry. At Lazar's, we create gifts for all occasions and holidays. And because not everyone celebrates the same holiday, we design treats for all faith-based holidays. Are you thinking about having a backyard party? We have you covered. Our platter-style gift baskets will have all your guests talking and coming back for more. Choose from our assorted candy, chocolate, fruit and nut, chocolate-covered pretzels, assorted chocolates, and our chocolate, candy, pretzels, and popcorn platter.
For more information on our chocolate teacher gifts or other products, visit our website or call us at (516)829-5785. We will answer any questions you may have. Contact Lazar's today!