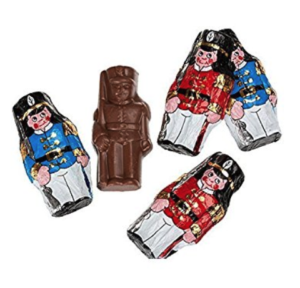 Christmas chocolate novelties are a fun and festive way to treat your loved ones this holiday season. At Lazar's, we offer a variety of Christmas shapes available in milk or dark chocolate. There is something for everyone, from gingerbread men, pops to solid chocolate stars. Surprise your little one with a chocolate reindeer pop in their stocking. 
As a fourth-generation family of chocolatiers, we know chocolate. That is why we only use the finest ingredients and the best of care when making our chocolates. If chocolate is not your thing, then that's okay. We carry many other treats like hard and soft candies and dried fruits and nuts. We haven't forgotten about those with dietary restrictions, such as sugar and nut-free and kosher products. 
Lazar's doesn't only carry Christmas chocolate novelties. We have a variety of fun shaped chocolates that are available all year round. These shapes come in the following themes, theatre, transportation, sports, greetings and occasions, hobbies, gender reveals, animals, music, and more. So if you are looking for a fun way to celebrate something important, celebrate with a chocolate novelty from Lazar's.
For more information on our Christmas chocolate novelties or our many other products, visit our website or give us a call at 1(516)829-5785. We will answer any questions you may have. Have a Merry Christmas and Happy Holidays from everyone here at Lazar's.