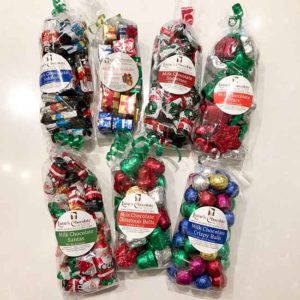 If you are looking to add a little cheer, consider Christmas chocolate from Lazar's. We carry various sweet treats that everyone, even the big guy himself, will love, from chocolate shaped presents to chocolate stars and everything in between. Whatever you're looking for, we've got it. 
The holiday season is the time for indulgence, and what's a better way to do so than by eating chocolate and other delicious sweets. Lucky for you, we carry a variety of sweet and savory treats. Such as a mixture of candies, both sour and sweet, hard and soft. Platters of dried nuts and fruits, and of course a wide range of chocolates. For those with dietary restrictions, we haven't forgotten about you. We carry nut-free, sugar-free and kosher products. 
Christmas chocolate makes an excellent gift for anyone, whether it's a boss, co-worker, teacher, bus driver, friend, family member and more. These festive gifts will be sure to put a smile on anyone's face, whether it is a Santa shaped chocolate or a personalized Christmas chocolate bar. Give the gift of chocolate this season with chocolates from Lazar's.
Don't wait too long to purchase Christmas chocolate as they sell out fast. For more information, visit our website, or give us a call at 1(516)829-5785. We will answer any questions you may have. Contact Lazar's today!