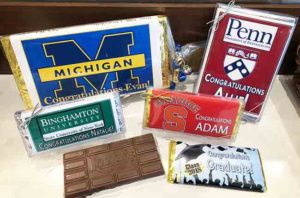 Are you looking for a sweet college gift package for your post-secondary student? Why not consider something from Lazar's Chocolate? We have various school-themed treats that make for a perfect present, whether they are graduating college or university or have received an acceptance letter. Congratulate them with some chocolates or other delicious goods from Lazar's.
Chocolates and other sweet treats are a great way to celebrate any occasion. And if you have a special event that you need favors for, we have you covered. We carry a selection of chocolate and candy party bags, elegant gift boxes, and novelties. You can customize our gift boxes with different colored boxes, ribbons and you can choose the type of truffles you'd like. And if you're holding a baby shower, our baby-themed chocolates are perfect for your party.
Our college gift package items include an assortment of our goods such as chocolate-covered popcorn, pretzels, wrapped chocolates, and more. They also contain personalized chocolate bars, which you can customize to suit your graduate needs. You can choose from an eight-ounce or sixteen-ounce chocolate bar and milk or dark chocolate. And to make it more personal, you can add the college name as well as your student's. Your grad worked hard to get that diploma. Why not surprise them with a special treat from Lazar's.
For more information on a college gift package, visit our website or give us a call at 1(516)829-5785. We will answer any questions you may have. Contact Lazar's today!