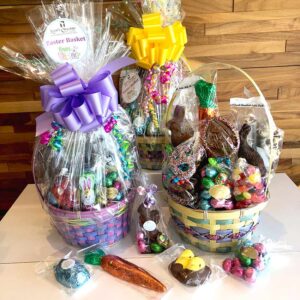 If you're looking to order corporate chocolate gifts for your group, look no further than Lazar's Chocolate. These orders are available all year round, at any quality, and can be delivered anywhere. Owners Jeff, Richard, and Marc handle all of these orders and are happy to create the perfect gifts for your team.
Lazar's carries a wide variety of chocolate goodies for you and your team. They range from our famous hand-dipped chocolates to miniature foil-wrapped chocolates to fancy gift baskets with many different products and platter-style baskets that are perfect for those meetings. We also carry candy platters for those who prefer candy over chocolate. These candy platters contain a variety of sweet and sour candies. 
Corporate chocolate gifts can come in a variety of sizes. The larger the size, the more variety they contain. As mentioned, we carry a variety of platter-style baskets. These baskets include assorted candies, chocolates, chocolate-covered pretzels, and a mixture of everything. No matter the size of your corporate event, these gifts and platters are the perfect way to show your team how much you appreciate their hard work and effort. Start the year off right with our delicious treats. 
For more information on corporate chocolate gifts and how to order them, visit our website or call us at (516)829-5785. Contact Lazar's today! We will answer any questions you may have.