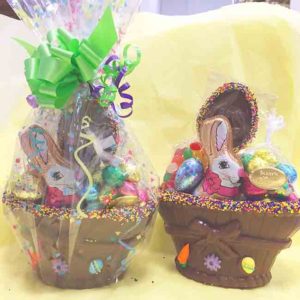 It's never too early to think about Easter gift sets for those special people in your life, whether it's your kids, spouse, parents, coworkers, or anyone else that you want to spoil this Easter. At Lazar's, our gift sets contain many of our favorite treats, such as chocolates, jelly beans, malted eggs, and much more.
The holidays are our favorite time as it allows us to create treats to celebrate traditions of all faiths. As a family-run chocolate and candy company, we want everyone to enjoy our products and feel included when it comes to their special holiday. We also have a variety of nut and sugar-free products for dietary restrictions. If you're not sure about one of our products, you can reach out to us, and we will provide you with further information.
If the size is what matters for your Easter gift sets, then you're in luck. Our Easter gift sets range from small to extra large. And they come in a box with colored paper, so you don't have to worry about the strawy mess that usually comes with traditional Easter gift baskets. Your gift receiver will indeed thank you for it, especially if it's outside of your family.
For more information on how to place Easter gift sets order, visit our website or give us a call at (516)829-5785. We will answer any questions you may have. Contact Lazar's today!