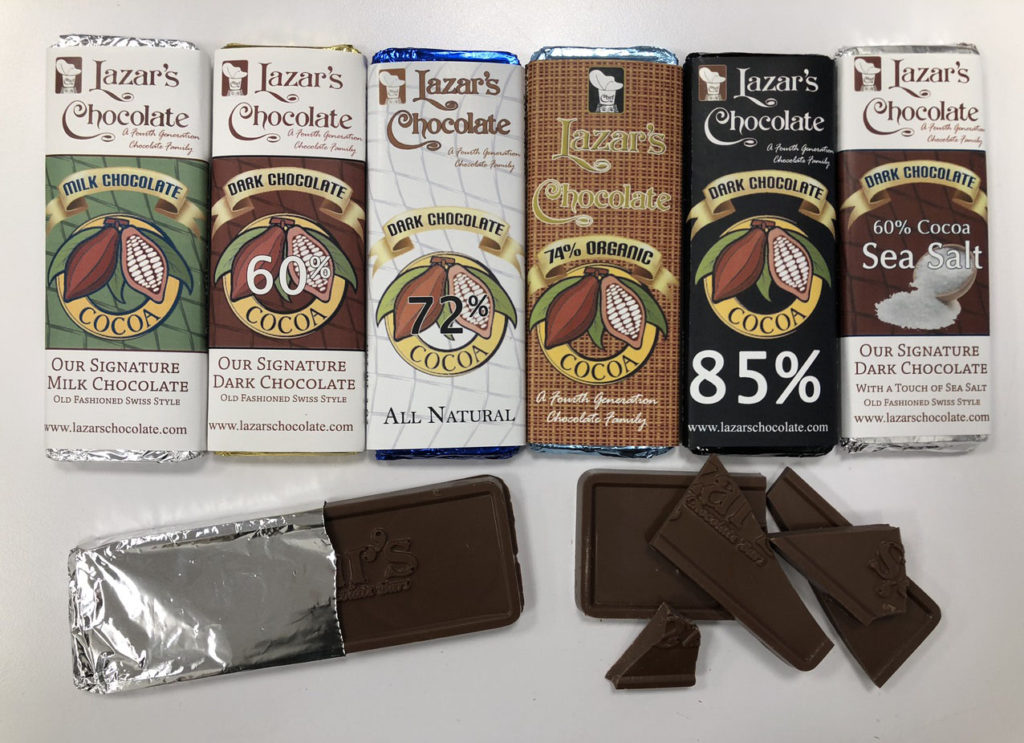 If you are looking for delicious gourmet chocolate bars, look no further than Lazar's Chocolates. As a fourth-generation family of chocolatiers, you can trust us to deliver you good quality chocolate handcrafted with care. Our chocolate bars are available in three and six-ounces.
At Lazar's, we don't just make chocolate bars. There is a lot more to our delicious store; we carry chocolate covered nuts, fruits, coffee beans, popcorn, candy, and more. And if you are hosting a large gathering, we can also put together chocolate platters, candy platters, fruit and nut platters and fruit, chocolate, and nut platters. Looking for a gift for that chocolate and sweets lover in your life, we have those too. There is even a truffle gift box, for something extra fancy.
A gourmet chocolate bar comes in the following types, milk, dark, dark chocolate with sea salt, 72% extra dark, 74% organic dark, and 85% dark chocolate. According to specialists, a small amount of dark chocolate each day has some health benefits. These benefits include lowering blood pressure, improved brain function, reducing heart rate, and more. What could be a better excuse to eat chocolate than that?
For more information on our gourmet chocolate bars, visit our website or give us a call at 1-516-829-5785. We will answer any questions you may have, contact Lazar's today.