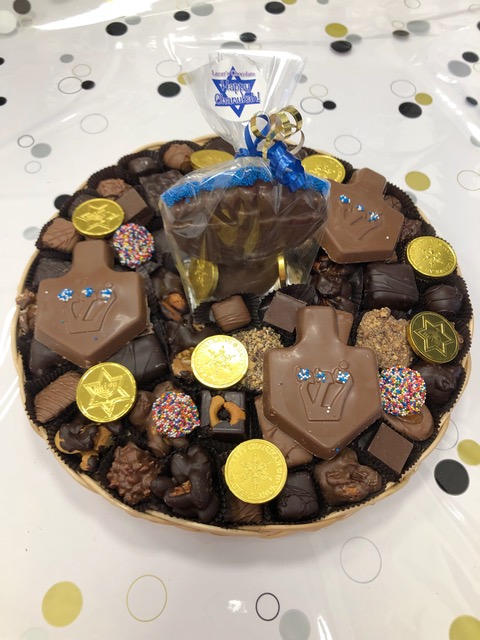 Gourmet chocolate gifts from Lazar's Chocolate is a sweet way to treat the chocolate lover in your life. The holiday season is fast approaching, and we have a variety of chocolates for any occasion. Looking for a gift for your Thanksgiving host? We have fall colored nonpareils, Thanksgiving gift boxes, chocolate cornucopias, and even turkey centerpieces. These creative Thanksgiving-themed chocolates will guarantee to make everyone smile.
Our fancy gift boxes are perfect to gift to a loved one, teacher, coworker or neighbor. These boxes range from a 12 piece gold box to a classic two-pound gift box. For the popcorn lover, we have a chocolate-covered popcorn gift box. This theatre-style box contains savory unsalted popcorn drizzled with Swiss-born milk, dark and white chocolate. It's perfect for watching holiday movies.
Gourmet chocolate gifts also come in assorted baskets. These baskets contain a gold gift box of assorted chocolates, seasonal foil wrapped chocolates, milk, and dark chocolate covered raisins and chocolate-covered malt balls. For an even greater selection of assorted chocolates, we recommend our number five and six baskets.
All of our gourmet chocolate gifts are handcrafted and make a perfect gift for any occasion. For more information on any of our products, visit Lazar's Chocolates online or contact us at (516) 829-5785. We will answer any questions you may have, call Lazar's today.