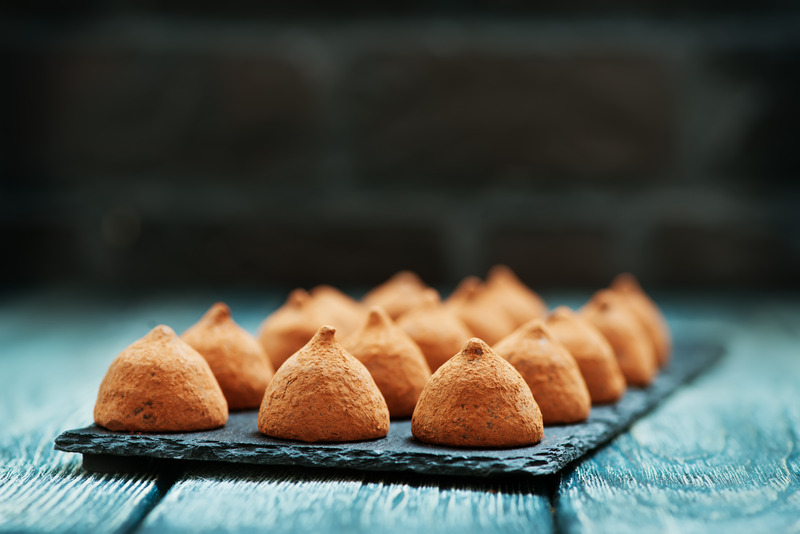 If you love gourmet chocolate truffles, then look no further than our selection, we have eight different varieties of truffles that will surely satisfy your truffle craving. All of our chocolates are handcrafted with care, made with kosher ingredients and come in both dark and milk chocolate.
Truffles originate from France and have a creamy chocolate ganache filling that can be coated in milk, white or dark chocolate. At Lazar's, we make sure to decorate our truffles with a bit of extra chocolate to make them more visually appealing and extra chocolatey. One bite of our delicious chocolates and you will see why our customers keep coming back for more.
Our gourmet chocolate truffles come in champagne, dark chocolate cocoa, dark chocolate espresso, dark chocolate Grand Marnier, dark chocolate raspberry, dark chocolate rum, and two-layered square chocolate truffles. These chocolates start at half a pound and go up to three pounds, with approximately 25-30 pieces per pound. Treat yourself or someone you love to creamy truffles from Lazar's chocolate.
If you would like to see these gourmet chocolates or our other delicious products for yourself, visit our website. While you are there, check out our blogs for information on all things chocolate. If you see something that you like, you can place an order and have it delivered right to your house. If you have any questions about our products or the ordering process, give us a call at 516-829-5785. We will answer any questions you may have, contact Lazar's today!