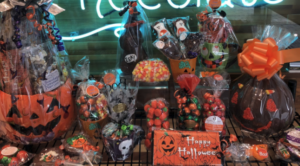 Are you ready for some Halloween chocolate in New York? Because Lazar's Chocolate is. We have all kinds of Halloween treats to get you into the spooky season. These treats are perfect for handing out to trick-or-treaters or as a treat for friends, coworkers, or family. From Halloween-themed chocolates to traditional candy corn, there is something for everyone. 
If chocolate isn't your thing, have no fear. We have plenty of sweet and sour candies, from gummy bears to gummy worms to jelly beans and licorice. And if you have difficulty choosing, consider our assorted candy gift bags or candy platter if you're really into the candy mood. Candy platters are perfect for all types of parties, including Halloween. Speaking of Halloween parties, our gift platters are perfect for that occasion. They contain a variety of candy, assorted chocolates, chocolate-covered pretzels, and popcorn. These platters will surely wow your guests.
So, when you want Halloween chocolate in New York, come to Lazar's Chocolate. While you are here, please take a look at our Halloween novelties. There is chocolate shaped like ghosts, decorated pumpkins, witches, a haunted house, and skulls. Some of our chocolates come in milk, dark or white chocolate. Know a Halloween baby? Our Halloween gift set is the perfect birthday gift. It contains a variety of delicious treats. 
For more information on Halloween chocolate in New York and to place an order, visit our website or call us at (516)829-5785.